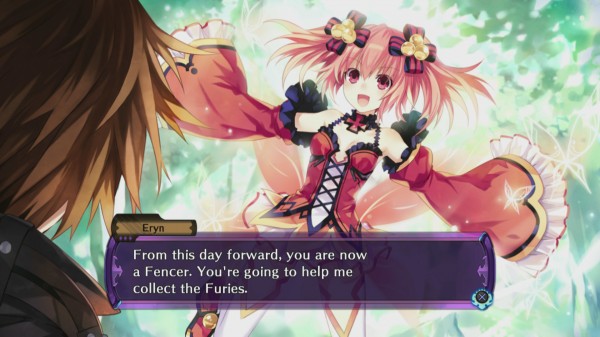 Today NIS America has taken the time to release the first English screenshots we have seen for Fairy Fencer F and these screenshots serve as a way to introduce us to some of the characters players will run into once the game is released on September 23rd in North America and September 26th in Europe.
It is worth noting that some of the characters have had their names modified slightly, and NIS America has provided us with a brief personality description for some of the characters, including the main characters, in the game which you can check out below.
Fang – The main character and a foul-mouthed Fencer. He's something of a hedonist with a lazy streak, but he always pulls through when he's needed.
Eryn – Fang's fairy partner. She thinks Fang is an idiot and is rather condescending to him.
Tiara – A refined Fencer who takes things quite seriously. She might be slightly masochistic, but prepare to be terrified if you get her mad.
Harley – A Fencer and fairyologist, she's got an unhealthy obsession with all things fairy. She's rather scatterbrained when it comes to anything outside the realm of her research.
Bahus – Harley's fairy partner. He looks tough, but he's actually an accomplished cook and domestic caretaker.
Pippin – A mysterious Fencer full of wisdom. How does his brain operate with a sword stabbed through his head? Who knows?
Soji – Pippin's dashing, gentlemanly fairy partner. He's a well-mannered butler who's often mistaken for a Fencer.
Sherman – A Fencer who desires world peace and wants to keep Furies out of evil hands. He exudes style in his dress and speech. That's probably why he and Fang don't get along.
Ryushin – Sherman's fairy partner. Serious, stern, and robotic in appearance – he can be stubborn and unwavering in his thoughts at times.