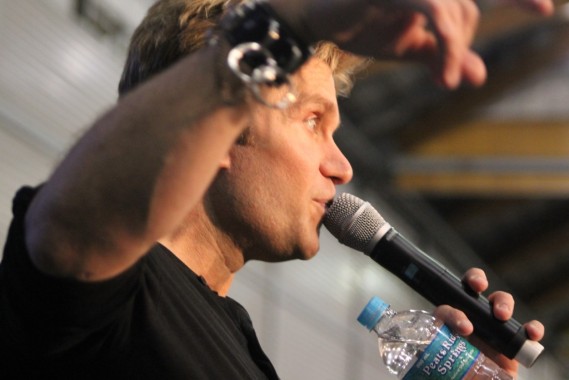 There is no man in this world more charismatic than the legendary anime voice actor and star of the new web series "Star Trek Continues" Vic Mignogna. The industry great headed down to Australia to attend this year's Supanova convention (2014) as a guest to promote the new science-fiction series as well as to connect with his long time anime fans down here in "Oz".
He appeared on stage to the delight of the audience and was immediately met with our roars of joy. Gripping his heart and smiling profusely, he welcomed us to his very own panel at the same time as our warm vibes welcomed him back into the country he loves. The panel officially began when he jumped down into the audience to informally introduce himself to us. Out of all the guests of Supanova 2014, Mr. Mignogna was by far the warmest (followed closely by his colleague and friend Chuck Huber).
Audience members began asking him questions and mentioning their favorite characters, Mr. Mignogna didn't think twice about getting into character for his fans and it made for when heck of a start to a panel. He spoke about his favorite roles as well as the roles he missed out on but wished he could have been a part of.
"I really wanted to be a part of 'Death Note' but, as you may or may not know, 'Death Note' is recorded in Canada so you never actually hear an American voice actor in 'Death Note' unfortunately" – Vic Mignogna
He then went on to explain the difficulties behind recording roles like Broly from "Dragon Ball Z", commenting that "he is a larynx ripper". From there he was lead into talking about the actual voice acting industry. He explained to the audience that it is somewhat cut-throat and that "time is money" with faster voice actors getting more work than those who take more time to record lines.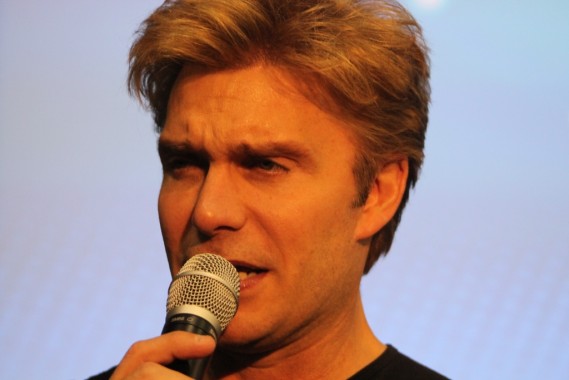 Thanks to the lovely MC of the panel Vic was then thrown into a conversation regarding "Star Trek Continues". After a hilarious William Shatner impression he began to talk sincerely about the influence of "Star Trek" on his life and how he plans to give back to the "Star Trek" community with his new show.
"I started to fall in love with 'Star Trek' around the time my mother and father got divorced…Captain Kirk was a father figure to me back then…he inspired me in so many different ways…" – Vic Mignogna
He went on to say that his goal with "Star Trek Continues" is to continue the original series in the same way it all would have been done back then. He doesn't want people to see the new Captain Kirk as Vic Mignogna, he wants audiences to see Vic Mignogna and be reminded of the original Captain Kirk; William Shatner.
He then explained to the audience the reason behind having the third episode of the new series being aired at Supanova Sydney 2014; he simply loves Australia and believed that this would absolutely be the perfect place to debut what he called such a fantastic episode. Thanks to an audience member he was brought back to his role as Edward Elric from the highly acclaimed anime series "Fullmetal Alchemist". He was asked what his favorite line as Ed was and after explaining that there are far too many to choose just one…well here's the scene he chose:
The rest of his panel was populated by questions from the audiences and Vic's own flamboyant answers. As mentioned above; he is one charismatic man and he made the audience feel as "at home" as he possibly could. It is clear that Mr. Vic Mignogna loves his fans be they part of the "Fullmetal Alchemist", "Soul Eater" or even "Star Trek" fandoms.
He acted, he sang and he "wooed" the audience in ways you couldn't even imagine. I cannot wait to see Vic Mignogna the next time he is in Australia. If you're anything like me and want to see more, head here to check out our one-on-one interview with the man himself.
For all other Supanova 2014 news Click Here.