Nagi no Asukara
Episode 25 – Love is Like the Sea

With the second last episode of the series we're now approaching the end. After the incredibly well-done previous episode I feel like this one was a bit disappointing. Loose ends are being wrapped up but in a fairly anti-climactic way, at least compared with the awesome Kaname and Sayu interaction. Nevertheless Nagi no Asukara is still an emotional roller coaster that's just entered its end game phase.
Strangely enough we aren't given the opening theme this episode as the show devotes every second to the story. As the friends prepare the Wooden Maiden for the Boatdrift Ceremony, Akira drops Manaka's pendant into the sea. Miuna dives in after the pendant when it starts evoking Manaka's feelings for Hikari. To be honest I don't think I'll ever understand how the ocean transmits emotions in this series, but it makes for a romantic plot.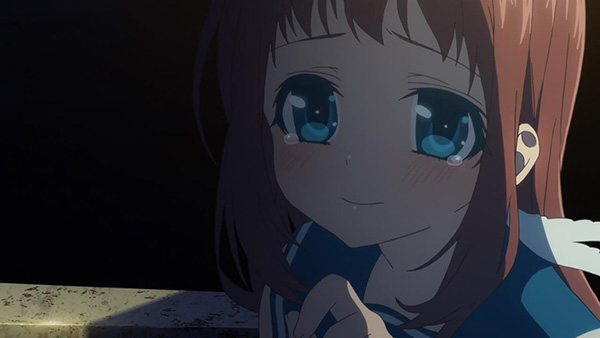 Tsumugu then appears out of nowhere and reveals to Miuna what Manaka told him one night when they were all still young. It turns out she revealed to Tsumugu that she liked Hikari but didn't want him telling anyone as Chisaki liked Hikari as well. This guy knew all along, hence why he was against Hikari's plan to get Manaka to like Tsumugu. Hikari had the wrong idea.
The ridiculously complicated love triangle is revealed for what it is in this episode. Chisaki and Tsumugu are brought together in a touching but almost funny scene, thanks to Tsumugu being weird. Chisaki, who has been resembling a mourning widow of late, doesn't deny Tsumugu's love and we discover she's been rejecting his advances because of her love for her friends. She feels that she has no right to feel happy and loved while Manaka is still emotionally disabled, per se.
While those two embrace, we move on to Miuna and Hikari. Poor Miuna forces Hikari to admit his love for Manaka, for his sake, bruising her own heart in the process. I guess this is pretty much it for Miuna's unrequited love. I think she's finally given up in one last, painful outburst. The next morning, right before the Boatdrift Ceremony begins, Kaname has a stern word with Chisaki in case she has plans to become a real sacrifice.
Uroko and Hikari have an interesting conversation where we learn more of Uroko's past and his connection to the Sea God. It certainly helps in further humanising his character. As preparations are completed (including Uroko arriving by car) and the ceremony kicks off, we get a strange sense of deja vu.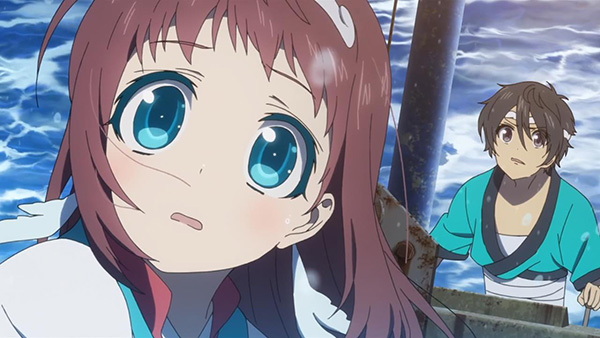 We've seen this before and we almost expect trouble a second time. Sure enough, like a slow train wreck, it happens all over again. The waters start boiling before the whirpools form and start battering the boats. A huge wave knocks Manaka into the sea while Sayu almost falls as well. Miuna dives in after Manaka, who has no ena to protect herself with. Hikari, Tsumugu and Chisaki jump down as well in time to see Manaka regain her ena after being embraced by Miuna.
Unfortunately, while Manaka is saved, Miuna is taken instead. She goes crashing down into the depths before laying to rest in the same spot where Manaka was held as a sacrifice. Hikari tries to break through to her but is thrown back by a force field, no doubt the Sea God's doing. As she lies there she reaffirms her love for Hikari, making my assumption about her giving up pretty much void. There's no stopping this girl, is there?
I'm incredibly bummed about Miuna, out of all people, getting the short end of the stick on the eve of the final episode. Fingers crossed she gets some semblance of a happy ending in the series finale.