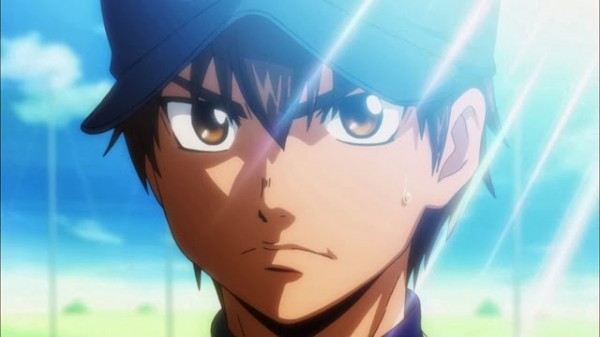 Ace of Diamond
Episode 12 – Target
It is just unbelievable how very good Ace of Diamond is. It almost feels like its cheating it is that good. How is it that Ace of Diamond continues time and time again to hit it out of the park? It is a mix of a few things really, excellent production from Madhouse and Production I.G. and the incredible source material from mangaka Yuji Terajima. All of it comes together for what is truly sports anime at its best.
Picking up at the fever pitch we left off last week, we see Chris continue to unite the team and form an unstoppable battery with Ejiun. Chris and Eijun truly understand one another and it is the chemistry between the two that drives the episode. Slowly over the course of the episode we see Eijun refine his talents with the help of Chris, but at the same time we see Chris slowly fall apart with his injury.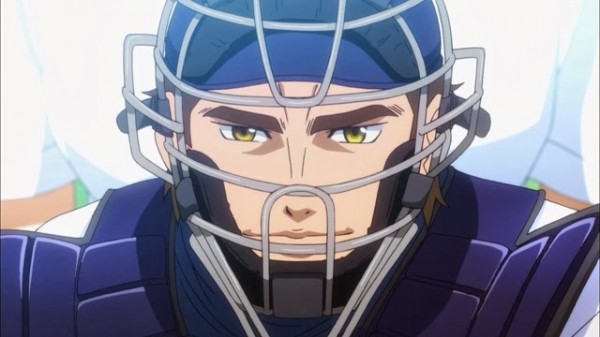 As I speculated last week, the injury rears its ugly head here, proving to be one hell of a dark cloud overhanging Chris. The real kicker here however is the mysterious Zaizen. As the game plays on, a player by the name of Zaizen continues to call the shots, marking plays for his team, all of which seem designed to play towards Chris' weakness. Who is this mysterious Zaizen? Well it is hard to tell at this point, but it seems that he may very well have a past connection to Chris. I'm not sure I missed any moment explaining that, but the episode ends in a very interesting way. Zaizen calls himself to the field, vowing to finish Chris off.
All of this raises some interesting questions. Who is Zaizen and what is connection to Chris? Does Chris' injury have anything to do with this guy? What kind of havoc will Zaizen cause on the diamond? We of course have to wait until next week's cour capper to get our answers, but we undoubtedly are instilled with intrigue by this character.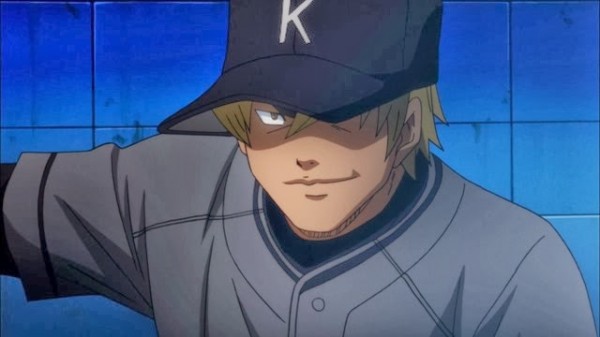 Last week we saw Chris at his best, and this time we see the other side of that coin, perhaps the side that pushed himself too hard and caused his injury to begin with. Chris can't help himself, he sees a diamond waiting to shine in front of him and he wants to make that happen. The Chris and Eijun relationship has really come into its own here and the cast has been well established at this point. I suspect things won't exactly end well for Chris, he even admits this looks to be his last match. The injury storyline has run quite deep and rings true for any athletes who have suffered the same fate.
For Chris it is a real passing of the torch moment to Eijun. The passing of the torch tale is one that plays out often in sports films and shows, heck it even plays out in real life. Despite not exactly reinventing the wheel there, Ace of Diamond just does it so well. It takes what is a common sports tale and much like Chris does to Eijun, Ace of Diamond makes that old tale shine like a diamond. It takes something oldschool, a classic no dout and makes it new. Ace of Diamond is really just too good, story-wise, character-wise, tonally and emotionally, it is pitch perfect.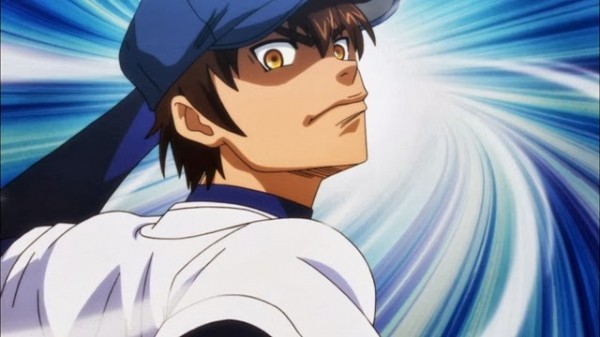 As we move onto the end of this cour, Ace of Diamond continues to excel and while it seems like the story of Chris is winding to a close, the story of Eijun looks to be only just beginning.
Check out more Ace of Diamond impressions HERE.