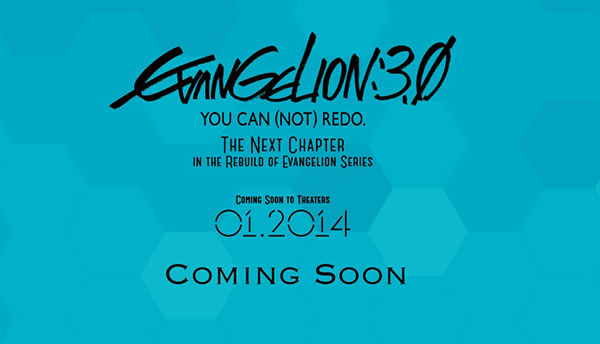 Eleven Arts and Funimation have announced that Evangelion: 3.0 You Can (Not) Redo will screen on January 10, 2014 in the United States. Canada will also see the film at participating Cineplex theaters on the 11th and 16th of January.
The full list of dates and times have been posted on the Eleven Arts website and are still being updated. A teaser trailer has been released alongside the announcement which you can view below, but is unfortunately limited to North American viewers only.
14 years after nearly ending the world in the "Third Impact," Shinji Ikari awakes to a devastated world. Though he was once this world's last hope, he is seen now as a harbinger of destruction. Enter Kaworu Nagisa, a mysterious pianist who understands Shinji on a level that nobody has ever done before. As Shinji returns to his life, the battle for humanity rages on. Will Shinji ever pilot the Evangelion Unit-01 again? Or does his very awakening herald the final destruction of all mankind? Evangelion: 3.0 You Can.(Not) Redo is an all new story, following the events of Evangelion: 2.0 You Can (Not) Advance.
Check out our review of the film during its premiere at Australia's Reel Anime Festival.