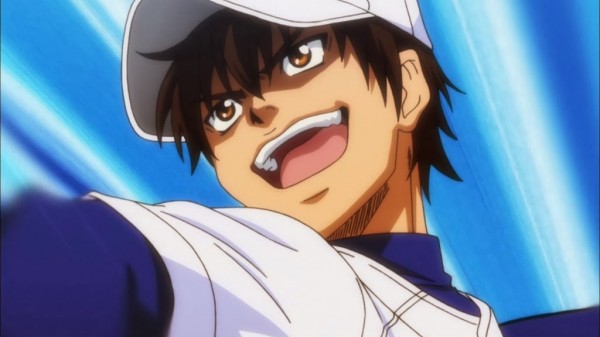 Ace of Diamond
Episode 6 – Head to Head
Finally at long last, Eijun gets his opportunity to prove himself. After the long road to the mound, Eijun gets to pitch after Coach Kataoka gives him a go, after an impressive round batting. Through Eijun on the batting side of things we see that there is more to him than meets the eye. While we have seen that on the field he is hopeless besides on the mound, he proves here that he has some real meddle with a bat in his hand.
Well while in a normal match he would do pretty decently, this isn't a normal match. Eijun and the rest of the first years are taking on the best of the best at Seidou. Eijun gets lucky and with some help from the enigmatic Haruichi, he does something that the first years have not been able to do so far the entire game: get a run. Once again Ace of Diamond defies the expectations of the viewer to great effect.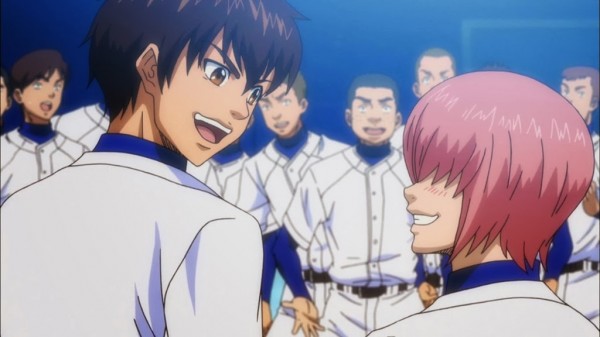 After all of that we see the kind of thing that makes sports anime so great. The triumphant moment in which Eijun gets his taste of the dream, for that short time he is the ace of the team. His curved straight pitch proves to be a surprise to the upper classmen and for the first time we see Eijun gain the recognition of his peers. It is a great moment that proves to be a satisfying pay off for the weeks of humiliating defeat that he has suffered.
Unfortunately the honeymoon is over all too soon. There is a fatal flaw in Eijun's pitching strategy, that being that he makes all pitches a battle of power. He doesn't pitch with a goal in mind other than overpowering his opponent. This proves to be his undoing when he comes head to head with his room mate and resident king hitter for Seidou, Asuka. In their exchange, Asuka absolutely slams the ball straight out of the park scoring himself a jaw-dropping home run.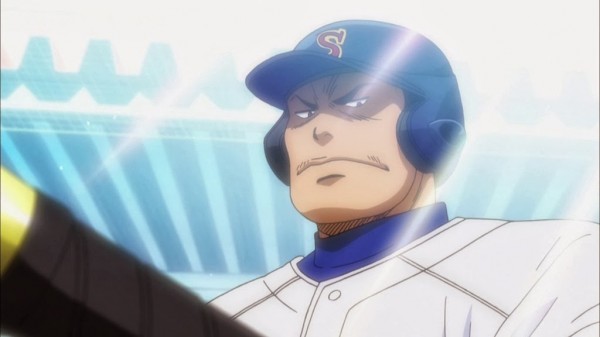 The interesting part of this exchange isn't Asuka defeats Eijun, but it is how Eijun responds to it. While onlookers of the game ponder if the home run has hurt Eijun's confidence. However they are quickly silenced when it is revealed that Eijun is more motivated than ever in this total defeat. He is absolutely thumped here but it serves as a source of motivation and determination for him to improve and become a stronger player. That tells you a lot about Eijun as a player and as a character. They say that there are sore losers and even sore winners, I think Eijun is the opposite, a good loser and a good winner. That is perhaps his defining trait, a defeat to him is a lesson learned. On the flipside to Eijun a victory is the pay off of the lessons learned. It is a very interesting development for Eijun and definitely one that defines him as a passionate good sport through and through. That is the Ace of Diamond way!
The direction from here is anyone's guess, but I think that Coach Kataoka's comments at the end of the episode will play a big part in the future of Eijun as a player. Kataoka describes him as a baby who has just learned baseball. There are a number of ways to take this, but I personally see Kataoka looking to want to see Eijun mature into a man. He definitely sees something special in Eijun, but right now he is still a diamond in the rough waiting for some shine. That brings us to the question, who is the man to bring out Eijun's inner diamond? I don't think we will have to wait too long to find out.
Check out more Ace of Diamond impressions HERE.