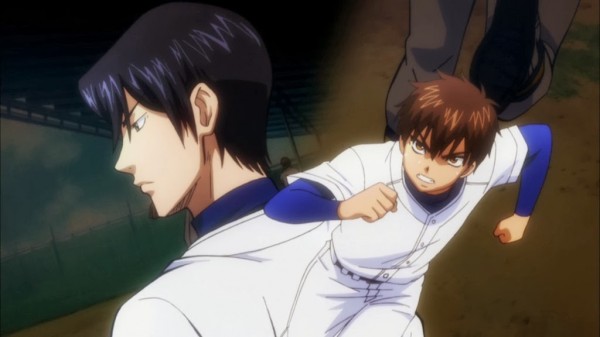 Ace of Diamond
Episode 4 – Are You Like Me?
Now that is how you make an introduction! With this episode of Ace of Diamond we are introduced to Furuya, a pitcher who is seemingly destined to be Eijun's rival. He is Eijun's complete opposite in nearly every sense, except for one – they both aim to become the ace of Seidou.
Furuya's cool demeanor is of particular interest. He seems initially apathetic, but we quickly discover that he is much more motivated than we first thought. He comes across as distant, yet it may just be that his eyes are focused elsewhere (on star catcher Kazuya). Undoubtedly his interactions with Eijun make for the most intriguing scenes of the episode.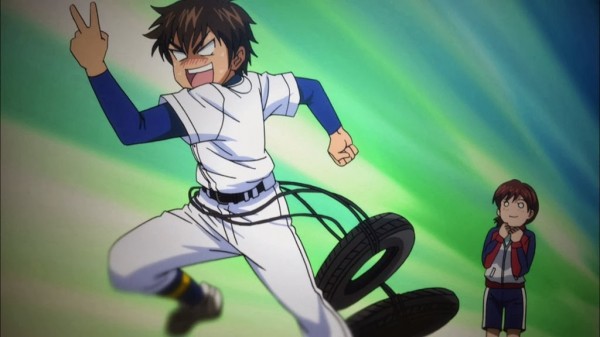 Eijun ever eager to train is playing catch by himself rather than attending the Seidou team's game. Furuya however accidentally missed the bus because he was in the bathroom. This of course leads to a fated meeting between the two.
Furuya decides to be Eijun's partner in a game of catch, but soon voices his disgust at Eijun's unpredictable pitching style, only to internally note its potential immediately after. Furuya like Eijun is a special kind of talent. Eijun can't throw straight, but there is advantages to that. Furuya however throws far too intense of a straight ball, the power of which was more than Eijun could handle.
These are the kind of moments that sports anime fans live for, the meeting between two characters fated to become intense rivals. You get the feeling here that Eijun and Furuya are indeed about to engage in a long and hard fought rivalry.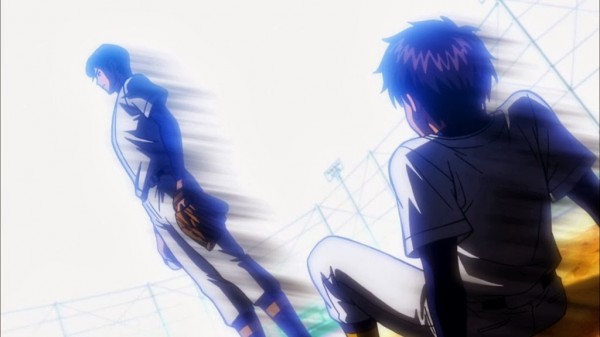 In fact it seems as though these two are destined to clash over the position of ace, a position which seems to be now open after a poor performance from Seidou's ace Tanba. Despite winning their match, Coach Kataoka was displeased with Tanba's work and kicked him off the mound, seemingly for good. Kataoka then decides to test the first-years meddle in a first years versus upperclassmen match, which looks to take place next episode. This definitely looks to be positioning Eijun against Furuya in a clash over the ace spot. One has a dynamite straight pitch, the other has an unpredictable curve, it looks to be a tough fight and Eijun's first real challenge since joining Seidou.
The question remains however, is Eijun good enough to be the ace of Seidou? Right now, it doesn't seem like it. His game is far too sloppy and Coach Kataoka seems well aware of that. Eijun may just be a diamond in the rough for Kataoka to shine into an ace, but for now it seems like a long road ahead for Eijun and with Furuya providing a major obstacle for him, his goal of ace may be even further away than first thought. Furuya wasn't the only new character introduced this week, we also got to meet Haruno, who seems to have quite a lot in common with Eijun (as far as being a 'baka' goes). She sees his passion and drive as a source of inspiration and hope for herself. While we know very little about her as of yet, one figures she will play a significant role in Eijun's journey moving forward. Her belief in Eijun and her own dreams of becoming a manager seem to be inter-connected with the main plot here, so I'm sure we can expect to see much more of her moving forward, even if it is only cheering Eijun on from the bleachers.
Big things are happening on Ace of Diamond and with the introduction of a true rival for Eijun in Furuya it looks like the heat is on in the race for the ace. It begs the question though, with the theme of sacrifice being the through line for the series, what price must one pay to become the ace of Seidou? Well with the clash between Eijun and Furuya dead ahead, it looks like we won't have to wait long for an answer.
Check out more Ace of Diamond impressions HERE.