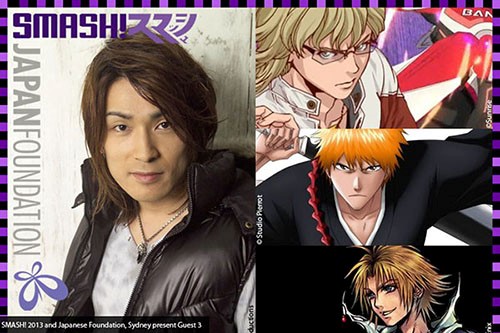 Sydney anime convention SMASH! has just announced that Masakazu Morita will be attending as a guest this year, thanks to the Japan Foundation Sydney.
Masakazu Morita is known for voicing characters such as Ichigo Kurosaki (Bleach), Marco (One Piece), Barnaby Brooks Jr. (Tiger & Bunny) and Tidus from Final Fantasy X.
His performance of Ichigo Kurosaki earned him the title of Best Rookie Actor from the 2007 Seiyuu Awards, Japan's ceremony for the recognition of voice talent. His voice isn't his only skill either, as he was a motion-capture actor for Final Fantasy VII: Advent Children and for Zell Dincht in Final Fantasy VIII.
Masakazu-san hosts his own radio show called the Bleach B-Station, consisting of five seasons of interviews and talks among the Bleach crew. Finally, the guy even dubs western films and TV shows for the Japanese market, in particular the voice of Zac Efron.
Masakazu Morita is the second guest announced for SMASH! 2013, with the first being Haruko Momoi.
You can follow the latest from SMASH! on their official Twitter and Facebook pages.