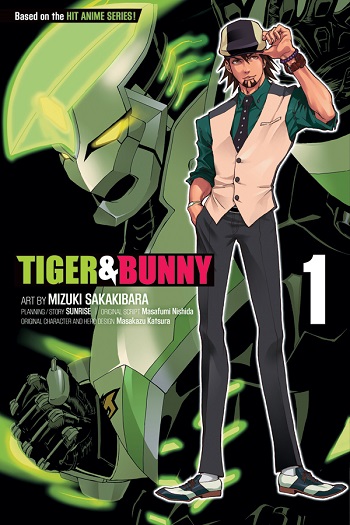 Can't get enough Tiger & Bunny in your life? Well now you have a chance to read the adventures of the unwilling duo of Barnaby and Kotetsu as Viz Media has recently released the first volume of the Tiger & Bunny manga series in North America.
Earlier this week on April 9th the first volume was released and is available for purchase at an MSRP of $9.99 US. The manga itself contains 168 pages including four pages of full-color character art, though who the art is of was not revealed.
For those unfamiliar with the series, Tiger & Bunny takes place in a world where super-powered humans called NEXT have begun appearing in the world and many of these NEXT have become heroes that prevent crime while also partaking in a special television show called Hero TV where they try to show off for their corporate sponsors. The series originally began as an anime series and we previously reviewed the first set of the Tiger & Bunny anime release which you can read here while the second half of the anime series is set to be released sometime in May.