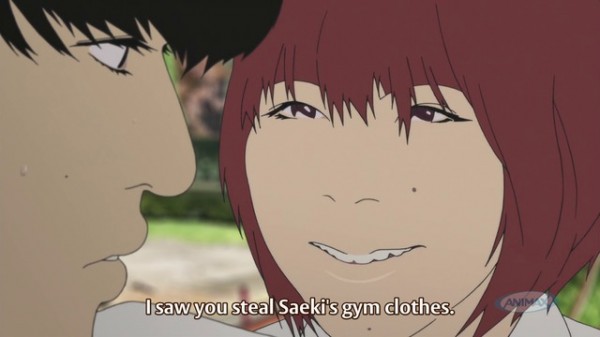 Sentai Filmworks is gearing up for a "corrupt pure-love story" now that it's acquired the license to the "Flowers of Evil" or "Aku No Hana" anime. The series, which will run for 13 episodes, is due out soon and you can get your fill of it through select Digital outlets if you can't wait for the home video release that'll be coming out later this year.
The anime will be based off of the original manga created by Shuzo Osahimi and will be directed by Hiroshi Nagahama who also did Mushi-Shi and Detroit Metal City. Aki Itami will be doing series composition and Hidekazu Shimamura on characters. Don't forget there will be a butt-load of rotoscoping.
Sentai Press Release Synopsis:
Darkness lurks everywhere, in every human heart, and sometimes it takes just a second of weakness for it to take root.  For Takao Kasuga, that germination begins when his obsession with his beautiful classmate Nanako meets the opportunity to "borrow" her used gym clothes.  Unfortunately, his loathsome act of laundry theft is witnessed by Nakamura, the strange girl who sits behind him in class.  Soon, Nakamura's own dark obsessions begin to hook their twisted tendrils into Takao's miserable existence.  Blackmailed into a "contract" under the threat of having his guilt revealed to his entire class, the former bookworm who could spend hours reading Beaudelaire's "The Flowers of Evil" now finds himself entwined in Nakamura's growing fantasies as she leads him down the garden path to damnation.  As their blossoming relationship becomes ever darker, even the seemingly innocent Nanako is pulled into the nightmare.  Just what are Nakamura's ultimate plans, and will the increasingly trapped Takao really be willing to carry them out?  What you sow, you must ultimately reap, and there's certain to be a harrowing harvest ahead in FLOWERS OF EVIL!