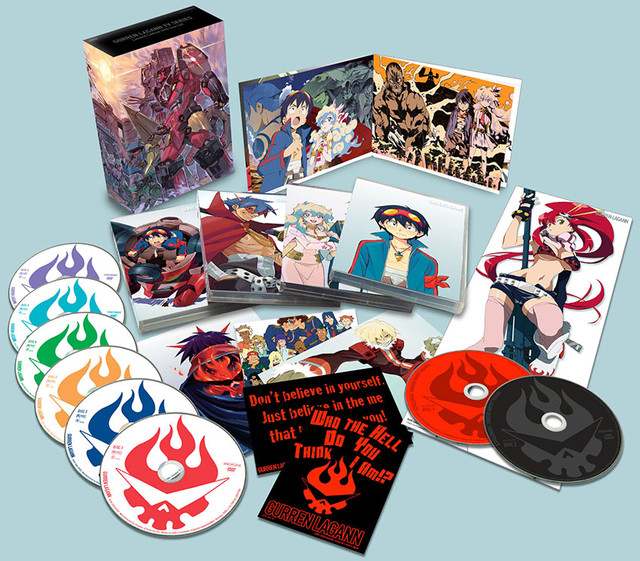 That's right, the most over the top anime of all time is being re-released in two extremely comprehensive box sets.
The DVD pack will contain all 26 episodes, including a director's cut of episode 6, in both English and Japanese as well as 2 soundtrack CDs, a 36 page artbook, 12 postcards, a double sided poster and two Kamina catchphrase stickers. Video extras will include staff interviews, 3DCG test footage, along with the "Yoko Goes to Gainax" short among others.
The Blu Ray set will be an import of Japan's "Tengen Toppa Gurren Lagann Complete Blu Ray Box" set over 10 discs and 5 CDs. In addition to the series and features of the DVD package, this set will contain both Childhood's End and The Lights in the Sky are Stars movies with English subtitles, since there is no English dub of the films. It will also include clean openings and endings for both the series and movies, the Parallel Works music videos, episode 5.5 "My Gurren is Shiny" OVA (originally released alongside the DS game), staff interviews, documentaries on the films and more. All the Gurren you could ever want. Seriously, even the box is an added bonus, featuring exclusive illustrations and early production designs. Ridiculous.
The sets are slated for an American release in May, though pre orders begin April. The DVD set is said to cost $174.99(US) whilst the Blu Ray set will put you back around $669.99(US).
With more special features than you could shake a Giga Drill at, what more could you want?  But ludicrously over the top, that's Tengen Toppa. That's Gurren Lagann.