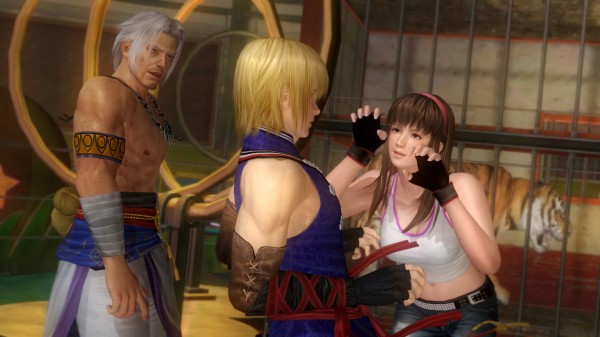 Tecmo Koei revealed a few new pieces of information for Dead or Alive 5 Plus, an enhanced version of the console game, which will be released on the PlayStation Vita on March 19th in North America. First they decided to provide more information about the new first-person gameplay mode that has been introduced in this version of the game.
In "Touch Play" mode players can hold the Vita vertically and receive a first-person view of their opponent. In this view you will not fight as you normally would, but instead you will fight using either one of two modes. Mode 1 allows the player to attack their opponent anywhere they tap them while Mode 2 allows for flicking, touching and pinching your opponent for more attack variety.
Also added in this version of the game is a Training Plus mode which provides various enhanced training missions as well as extra information such as delay interval frames, move reach and more. It is also worth noting that players can also share costumes between the Vita version and PlayStation 3 versions of the game. You can check out some screenshots of the game below, including the first-person view. However you will not be getting odd thoughts out of me this time, you're free to come up with those on your own!