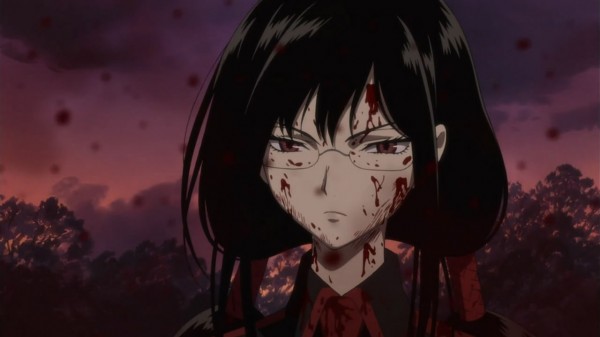 Yesterday while most of us were out celebrating Halloween, FUNimation was revealing important news concerning a certain vampire anime. Today the company not only revealed the English dub cast for Blood-C but also provided a short trailer showing off how some of the characters will sound when the series is released on January 8th.
The English voice cast and staff can be found below:
Saya Kisaragi – Alexis Tipton
Tadayoshi Kisaragi – Bill Jenkins
Fumito Nanahara – Robert McCollum
Nene/Nono Motoe – Lindsay Seidel
Shinichiro Tokizane – Scott Freeman
Itsuki Tomofusa – Chris Burnett
Yuka Amino – Martha Harms
Kanako Tsutsutori – Lydia Mackay
Dog – Todd Haberkorn
ADR Director – Jerry Jewell
ADR Engineer – Alyssa Galindo
Head Writer – John Burgmeier
Lead Writer – Jamie Marchi
The company also provided a small synopsis of the story which you can find below:
The creators of Blood – the Last Vampire and Blood+ team up with renowned powerhouse CLAMP to inject beauty into a chilling new addition to the Blood line. Horrifying beasts with a hunger for human flesh prey on the citizens of a quiet town. In moonlit twilight, Saya slays the monsters and returns home drenched in blood. As the attacks increase in frequency and intensity, her enemies relay cryptic messages about a broken contract. Limbs are torn from flesh and skulls are crushed and devoured while the huntress struggles with paralyzing visions and gaping holes in her memory. When the humans Saya promised to protect reveal the sickening truth about her role in the violence, she learns her mission isn't as clear cut as she thought-and her most sadistic foe of all is so close she can taste it.